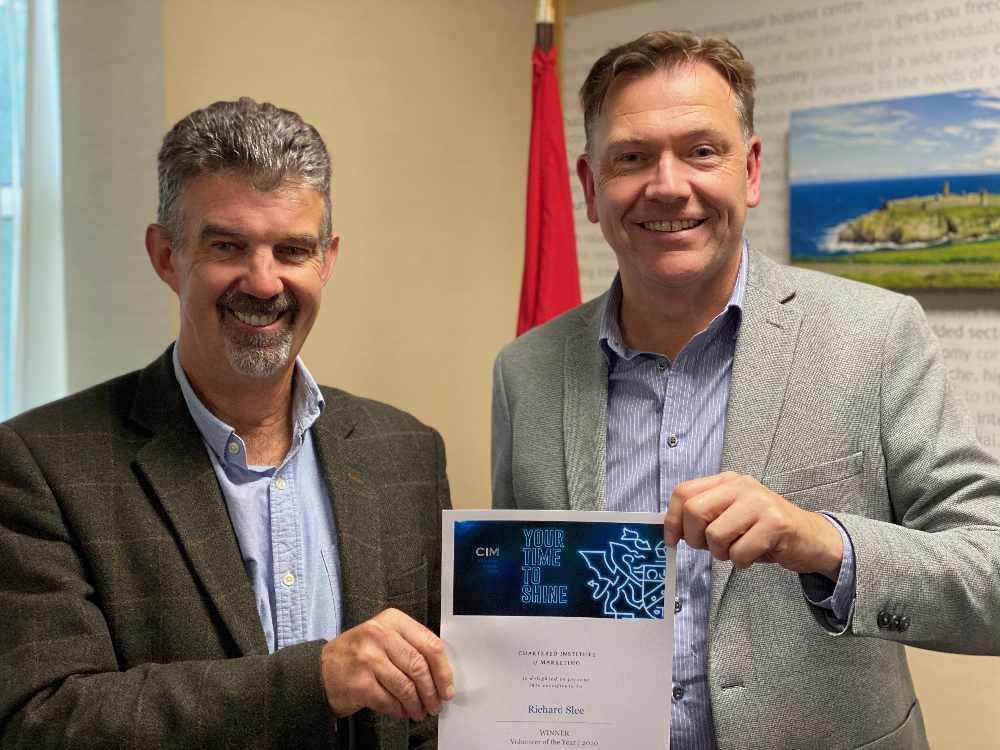 A chartered marketer on Island has been recognised with an industry award.
Richard Slee has been named the Chartered Institute of Marketing (CIM) Volunteer of the Year 2020 for the North West region and was presented with the certificate for the accolade by Enterprise Minister, Laurence Skelly MHK.
A board member for CIM North West, Mr Slee provides pro bono marketing and PR consultancy and support to a number of third sector organisations including as a Trustee of the Diana, Princess of Wales Hospice Care at Home Trust and Executive Committee Board Member of the Isle of Man Commonwealth Games Association.
Speaking about the award, Mr Slee says: "It's very pleasing to have been recognised by CIM and I would like to thank CIM Members in the Isle of Man as well as my fellow North West Board members for their ongoing support.
"As well as helping support its members with their career development, CIM promotes professional, responsible marketing and best practice across the discipline, with the needs of customers and an understanding of markets at its core.
"These are valuable traits which should be in great demand as the Isle of Man's economy progresses through its recovery from the challenges provided by the COVID pandemic."
Meanwhile, Chair of the CIM North West Board, John-Paul Simpson, adds: "Richard quietly and professionally gets on with his work in the Isle of Man representing the CIM and the marketing profession. His thoughtful, practical approach builds trust quickly amongst his peers.
"His strong links with local networks and his contacts within the local business community have helped to further the interests of CIM and its support for the Island's economy."