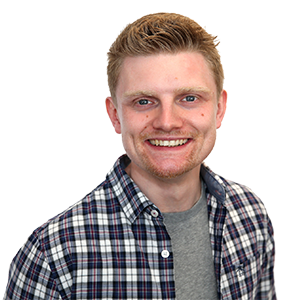 Nickname: Chedley
Star Sign: Capricorn
Hobbies: I have a few, most of all would be my interest in Technology & my ambition of creating the ultimate 'Smart Home'... I think second to this would be Coffee, I'm usually found with one in hand!
Previous Horrible Jobs: I could say, but let's not go there...!
Big Break: A few year's back, my first time on Three FM! (Bill in the post, boss!).
Most Annoying Habit: Saying 'Yes' to anything to help someone out
Most Likely To Say: ...something to put my foot in it
Least Likely To Say: 'No thanks, I'll have a decaf'
Favourite TV Show: Suits
Favourite Food: All of it
Embarrassing Moment: I have a few, as I'm sure does everyone. I still think back to one particular function, where I was learning to DJ alongside a certain Mr Fletcher, when I knelt down to tie my shoe lace. I went to stand up, without noticing my foot had become tangled with the power cables, in doing so I managed to cut the power to the whole function room. Luckily, I was still partially knelt and unseen by the guests. As friends often do, Matt took the heat (although not by choice!)
Most Memorable Moment: 3 that all tie together:
Being asked by my best friend to be his Best Man.
'Ring check' - making sure I had indeed remembered the wedding rings during the journey to the wedding (I did this around once every 30 minutes - better safe than sorry!)
Delivering my speech to the wedding party, ensuring the groom was appropriately complimented, and then embarrassed!
Who's Your Hero: Still, John McGuinness!
How Would You Like To Be Remembered: This question is a bit dark! I'd like to be remembered for making people laugh, I'm quite happy in playing the clown. I'm not going anywhere though, am I?!
Best Chat-up Line: 'Best' would imply I'd been successful. Think again!
What Animal Do You Most Resemble: Not something I've ever taken the time to ponder.
Give 5 Words That Most Describe You: Genuine, committed, honest, motivated, playful.
Worst place been caught short: No one has ever noticed that I'm short...
Celebrity you most look like: I'll let you be the judge of that - certainly one of the good looking ones!
If I was invisible for a day, I would: ...struggle to style my hair.
I never want to meet: Donald Trump. I hate laughing when it's inappropriate, but sometimes you just can't help it, right? I get the idea he'd have an issue with someone laughing in his face.
SOCIAL HANDLES
Twitter: Ched13y
LinkedIn: Chris Hedley