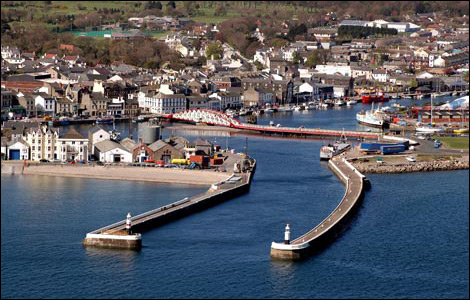 Ramsey Town Commissioners are under fire for apparently 'stifling' local businesses.
Local distillery and bar, Fynoderee, have been the subject of much controversy in the north of the Island of late, since applying to extend their opening hours, and develop a patch of nearby scrubland into an outdoor seating area for patrons.
At last Wednesday's meeting of Ramsey Town Commissioners, the board elected to oppose Fynoderee's application to extend weekday opening hours from 10pm to 11pm, and to remain open on New Year's Eve until 1am.
A number of members raised concerns that extended hours of business would disturb nearby residents.
Owner, Paul Kerruish, likened the sitting to a Monty Python sketch:
Fynoderee weren't the only business to be disappointed. Good Stuff owner, Andy Harding, applied to place an 'A' board in front of a neighbouring property (further than the permitted 1m away from the business' curtilage), and proprietors of Harbour Views requested permission to hang a banner advertising their bistro on commissioners' carpark railings on Parsonage Road, for the TT period.
Both were refused.
For both businesses, this will be their first TT; Harbour Views owner Anita, told me they've had a difficult start:
Ramsey Commissioners were in agreement that supporting local traders is a key element of their remit, so why have these businesses been told 'no'?
Juan McGuinness explains:
Mr McGuinness' colleague, Rob Cowell, has said rather than supporting the town's traders, these decisions are stifling businesses: