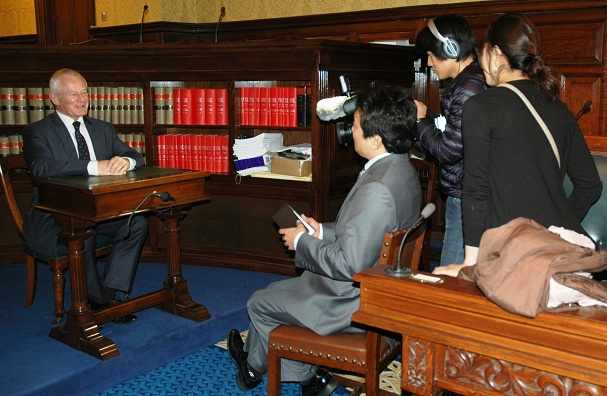 Chief Minister Allan Bell with the film crew from KBS
The Isle of Man is set to have fresh exposure to millions of people in the Far East following a visit by the Korean Broadcasting System.
The special feature on the Island includes interviews with numerous leading political figures in Tynwald.
Chief Minister Allan Bell spoke with producers earlier this week and Economic Development member Geoff Corkish will also feature on the broadcast.
The programme will air later this month on 'Correspondent Report', a weekend current affairs programme broadcast in South Korea.
The crew spent two and a half days here and focused on various aspects of the Manx economy.
Korea's interest comes after a visit the country's ambassador to the UK in November.
Mr Bell welcomed the film crew to the Isle of Man on Wednesday, and said: 'KBS is South Korea's leading public services broadcaster and the most influential media organisation in the country, the equivalent of the BBC in the UK.
"Their interest in our economy, heritage and culture provided a wonderful opportunity to promote the Isle of Man's unique offering to television viewers across the world."
He told KBS: "With the Free Trade Agreement in place between South Korea and the EU, the Isle of Man can offer an attractive corporate package to facilitate business for Korean companies exporting into Europe.
"We are a small and nimble country with the ability to identify niche sectors that could be mutually beneficial. We already have strong business connections with Korea through our shipping industry and I believe there is potential to develop that relationship into other areas."
During their time in the Isle of Man, the KBS crew took the opportunity to get a flavour of our culture and heritage, and learn more about unique aspects of Island life such as the TT and Tynwald Day ceremony.