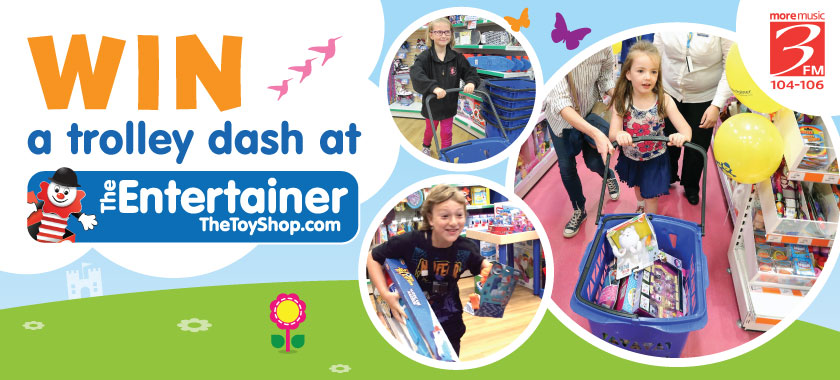 To celebrate the Grand Opening of the Island's newest toy shop The Entertainer on December 1st
We want to give your child the opportunity of a lifetime...A Trolley Dash in a toy shop!
Yep...that's right...Your little one could get into The Entertainer toy shop before it opens to the public and grab as many toys as they can in 60 seconds!
To enter just fill in the details and you could be joining us LIVE on Saturday 1st December for the grand opening of The Entertainer in the Strand Shopping Centre!
Terms & Conditions apply...only 1 entry per child.
Get dashing into Christmas with The Entertainer and 3FM LIVE!
TERMS AND CONDITIONS
The dash will take place within on Saturday 1st December between 8am & 9am
· Dashes will have one minute to take part in the dash.
· The prize is strictly non-transferable and products collected during the trolley dash cannot be redeemed for a cash or credit equivalent.
· All goods must be items on sale in store.
· No duplicate products will be allowed (meaning identical goods, even if of different weights, sizes or colours).
· The contestant will be limited to 1 trolley basket to carry all their goods.
· Goods not in the trolley basket will not be included.
· Proceeds from the trolley dash are excluded from refunds, however statutory rights are not affected.
· Ranges excluded from the Trolley Dash:
· All Lego
· All V-tech
· All Leapfrog
· All Animatronic animals/creatures
· Heelys
· All drones
Competition Terms and Conditions
· The competition is open to entrants who are aged 16 years or younger on the date the competition closes.
· The child's parent/guardian should enter this form on behalf of the child.
· Only fully completed entries can be accepted.
· All entries must be received by 3FM by 08:00 on 30th November
· Only one entry per customer.
· The winners will be picked at random by 3FM
· The decision of the judge is final and no correspondence will be entered into.
· The winner will be notified by phone, if no reply is received another winner will be selected.
· One overall winner will receive a One Minute Trolley Basket Dash in The Entertainer Store of their choosing.
· The event will take place from 8am on the chosen day, if the winner is unable to make the time another winner will be picked.
· The Entertainer will not cover and travel costs to and from the store.
· The winner must take all their winnings away with them on the day of the Dash.
· The winners will be required to partake in a prize delivery press event.
· The competition is not open to anyone associated with the promotion or employees of The Entertainer.
· Prizes cannot be exchanged for cash.
· No purchase necessary to enter the competition.