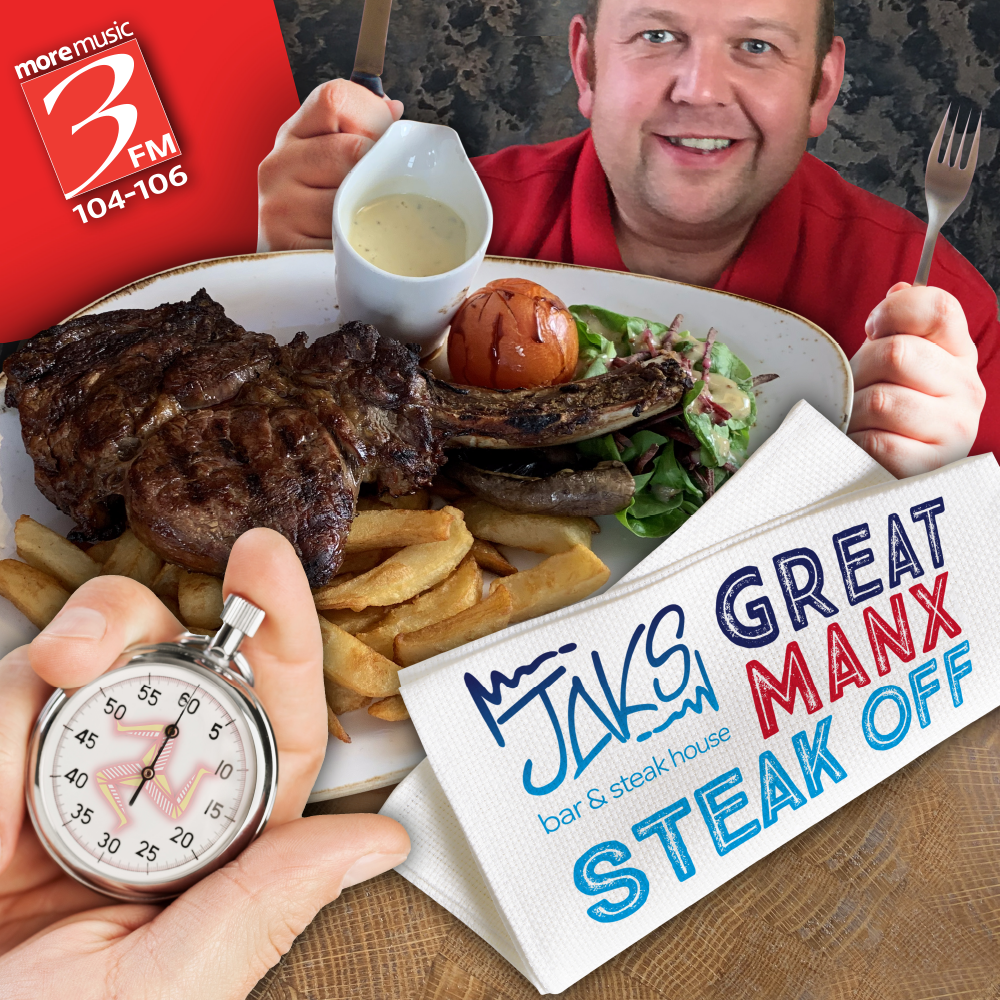 3FM and Jaks Steakhouse are looking for the Island's BIGGEST appetite and we want to crown one listener King of Jaks!

ENTRIES ARE NOW CLOSED
The Great Manx Steak Off

3FM and Jaks Bar & Steakhouse are looking for the Island's BIGGEST appetite and we want to crown one listener King, or Queen, of Jaks! You could be sitting down to the Island's juiciest steak, over 25 ounces of delicious aged Tomahawk, plus sides... finish the lot in the fastest time and steak your claim to an exclusive money can't buy prize... the Jaks Diamond Loyalty Card, allowing you to enjoy a delicious meal for 2 at the Island's favourite steakhouse every month for a year! REGISTER NOW at www.three.fm/promotions/great-manx-steak-off

Posted by 3FM Isle of Man on Friday, September 27, 2019

You could be sitting down to the Island's juiciest steak, over 25 ounces of delicious aged Tomahawk, plus sides...finish the lot in the fastest time and steak your claim to an exclusive money can't buy prize...the Jaks Diamond Loyalty Card, allowing you to enjoy a delicious meal for 2 at the Island's favourite steakhouse every month for a year!


The Great Manx Steak Off, with Jaks Steakhouse and the Island's feel good radio station, 3FM


Terms & Conditions
THE PRIZE
YOU MUST ONLY ENTER IF YOU ARE OVER 18 & ARE AVAILABLE TO TAKE PART IN THE FOLLOWING:
THE FINAL
ALL FINALISTS MUST BE ABLE TO TAKE PART IN THE COMPETITION ON THURSDAY 17TH OCTOBER AT JAKS BAR AND STEAKHOUSE BETWEEN 5PM & 7PM.
• The prize is NOT transferable, has no cash value and is not for re-sale.
• On acceptance of this prize, you are deemed to have read and agreed to the above terms and conditions.

3FM Standard Competition T&C's apply…you can read them HERE