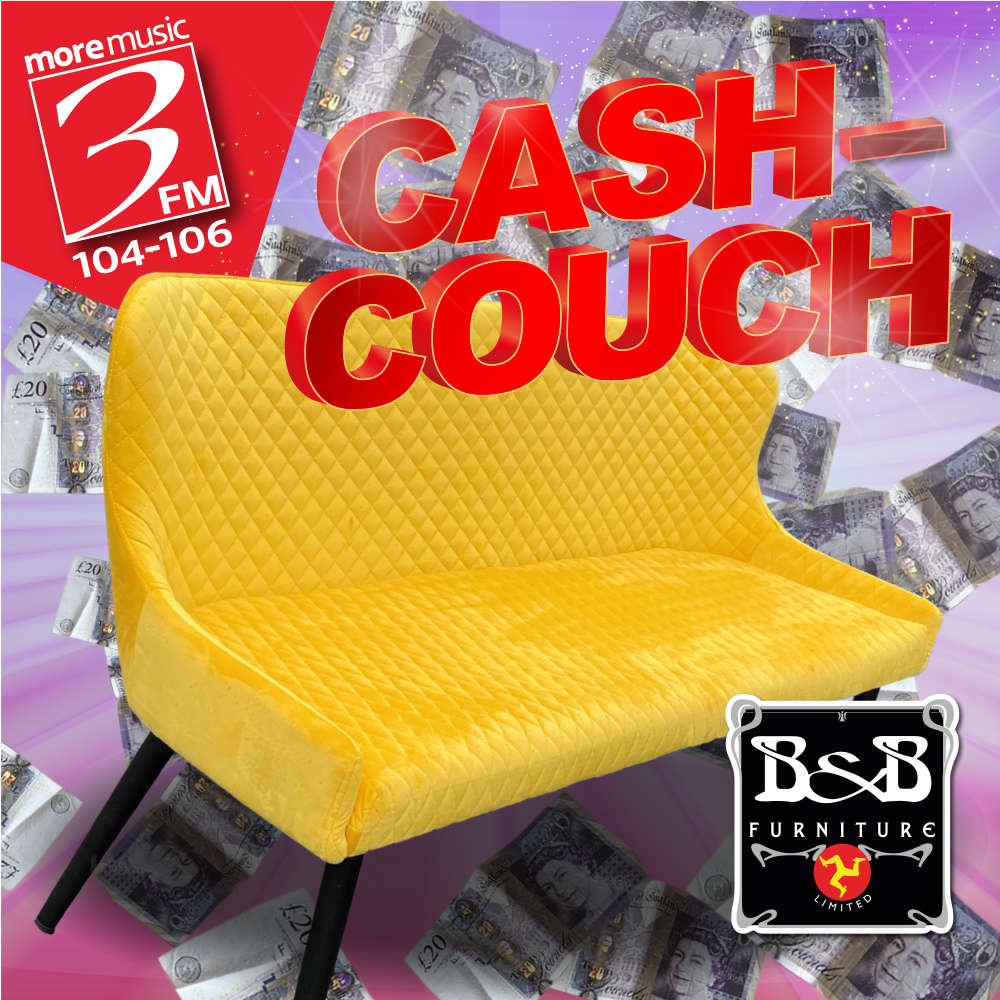 In June 2021, 3FM gave you the chance to WIN CASH with one of our biggest competitions ever and this week . . . the Cash Couch is BACK!
We've teamed up with B&B Furniture to take the Cash Couch out and about around the Island weekdays between 8am and 6pm . . . all you need to do is find it for your chance to WIN CASH!
BUT . . . what devious tricks and games have we up our sleeves this year . . . will there be something to bring, a challenge to complete . . . listen to 3FM and keep an eye on our Facebook page to find out more!
That's 3FM's Cash Couch . . . back this June with B&B Furniture!
3FM LIVE! It's the FINAL day of the Cash Couch with B&B Furniture! Where are we?!? If you know, listen to 3FM for the codeword with Jason & get to this location WITH whatever item Matt asks you to bring!

3FM LIVE! It's Day 8 of the Cash Couch with B&B Furniture! Where are we? If you know, listen to 3FM for the codeword with Chris & get to this location!

3FM LIVE! It's Day 7 of the Cash Couch with B&B Furniture! Where are we? If you know, listen to 3FM for the codeword with Tony & get to this location!

It's week TWO of Cash Couch with B&B Furniture. Where are we today?? Come and find us with the codeword which Jason has given out on air - and you could win CASH!

3FM LIVE! It's Day 4 of the Cash Couch with B&B Furniture! WHERE ARE WE?? Tony has your codeword on-air, bring that to us and you could win CASH!

3FM LIVE! It's Day 3 of the Cash Couch with B&B Furniture! WHERE ARE WE?? Jason has your codeword on-air, bring that to us and you could win CASH!

3FM LIVE! It's Day 2 of the Cash Couch with B&B Furniture! Know where we are? Jason has your codeword on-air, bring that to us and you could win CASH!

3FM LIVE! The day has come - there's Cash to be won in the next hour if you can just find the Cash Couch with B&B Furniture! Tony's got your codeword on-air, get that and come find us!

What's down the back of your couch? In ours, it's just cool, hard CASH!

3FM's Cash Couch is BACK this June with B&B Furniture... find out more HERE - https://www.three.fm/promotions/cash-couch/