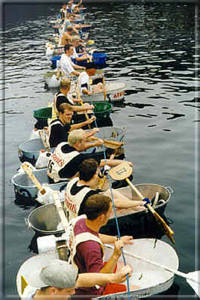 The famous world tin bath championships has raised nearly £7,000 for charitable causes this year.
The 48th annual tournament took place under beaming sunshine in Castletown on Saturday.
Organisers are thanking competitors, sponsors, coastguards and spectators for their support.
This years occasion saw a new womens world tin bath champion in Abigail Morgan who beat 20-time winner Erica Cowen to top spot, whilst David Watt emerged victorious once more in the mens race.