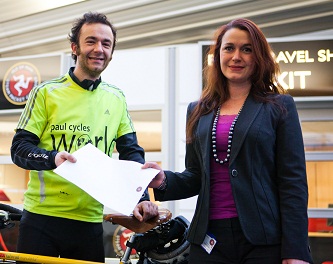 Cyclist Paul Ashley-Unett with Renee Caley of the Steam Packet, one of his sponsors
A Manxman is just one month away from beginning his quest to be the fastest person to cycle around the world.
Paul Ashley-Unett will set off from Regent Street in Douglas and must cycle 18,000 miles in 163 days – that's a minimum of 135 miles every 24 hours for five months.
The challenge will raise funds for Paul's two chosen charities – the Manx Society for the Prevention of Cruelty to Animals and Article 25.
The MSPCA promotes and looks after animal welfare in the Isle of Man, with an average of 1,600 animals and birds admitted to the sanctuary at Ard Jerkyll each year.
The money will go towards building a new pool area for treating grey seals, which are common in Manx waters but rare in the rest of the world.
Article 25 is a UK charity that manages projects around the world to provide better shelter wherever there is disaster, poverty, or need.
We'll have more updates on Paul over the coming weeks as he prepares to start his challenge.