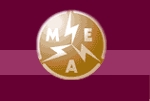 The Manx Electricity Authority have said their engineers are currently working to figure out the cause of a major fault which has left much of Douglas without power.
Central Douglas, Braddan, Santon and Glen Vine are the worst affected areas, with no time scale given for when full restoration works will be complete.
Motorists are urged to take it easy as there are a number of traffic lights reported to be down, leading to dangerous driving conditions and congestion.
The Post Office has said they've had to close a number of their premises around Douglas with the recommendation to use the main Regent Street office.
Anyone in particular desperate need of power is urged to contact the MEA on 687687 to explain your situation.