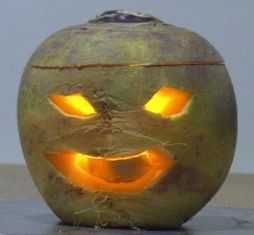 The Manx National Heritage are gearing up for this weekend's Hop Tu Naa celebrations with themed events planned all week.

Children have been able to carve their own turnip lantern each day at Cregneash this week giving the youngster a chance to find out more about the customs and traditions of Hop Tu Naa.

Historically Hop Tu Naa has been considered to be the Celtic New Year, marking the end of the Summer and beginning of the Winter.

Over the weekend there will also be Ghost Trains operating to Castletown with a special night train laid on for adults.