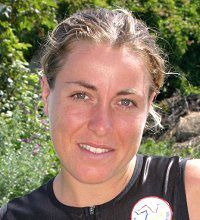 A Manx-Danish athlete has told 3FM about the moment she discovered she had been officially accepted to compete in this summer's Olympics.
Jess Petersson was scouted by the Danish Athletics Committee after a fantastic showing in last month's London Marathon.
The distance runner clocked a time of 2hr 35min, despite running nearly the entire race with a torn calf muscle.
Earlier, Jess told the station the slightly bizarre way she discovered she'd be competing in London (see audio).