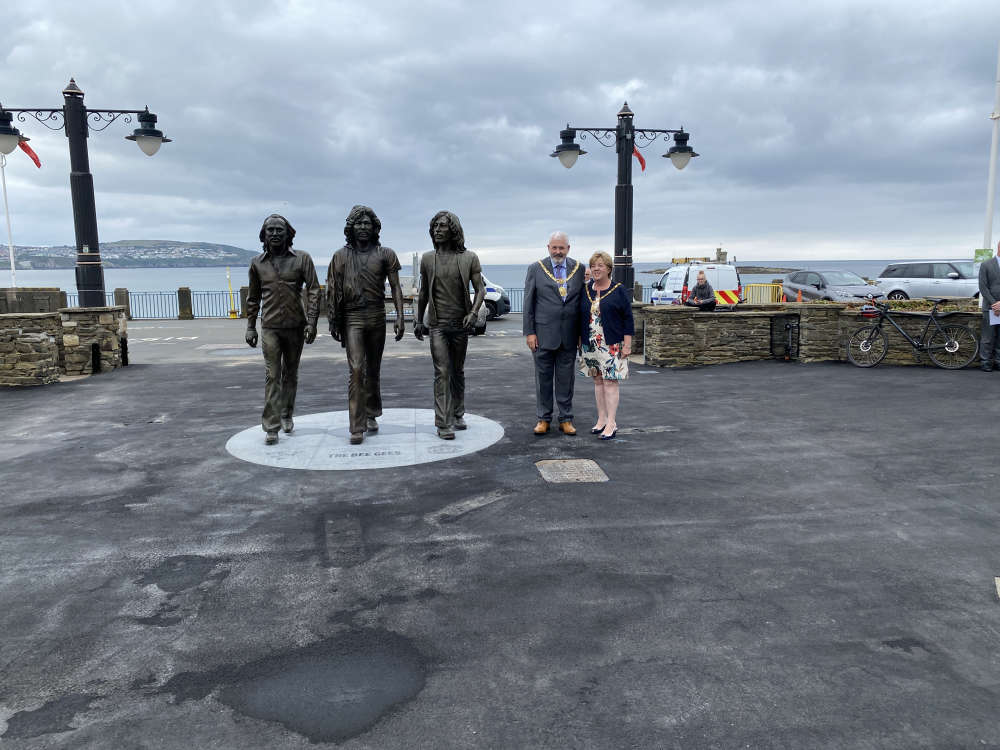 Hailed as a landmark for islanders to enjoy for generations, the sculpture depicts the stars "walking home" to Douglas.
The Bee Gees statue, which stands at 2.2 metres tall, is situated on Loch Promenade.
It was produced by a world-famous sculptor called Andy Edwards and shows the iconic pop stars walking towards Douglas, the town of their birth.
The statue's base is record-shaped and supports three sculptures of Barry, Robin and Maurice Gibb.
Douglas Council said the unveiling comes at a time of "renaissance" for Douglas promenade.
At the unveiling ceremony on Thursday The Mayor of Douglas said the Bee Gees never forgot the land of their birth and that the brothers had always taken every opportunity to speak with "deep affection and pride" of their Manx roots.
In August 2008, Douglas Council conferred the Honorary Freedom of the Borough of Douglas on Barry, Robin and the late Maurice Gibb.
In 2013 the first commemorative blue plaque to be erected by the Council was at 50 St Catherine's Drive, Douglas, the Bee Gees' childhood home.
Council leader David Christian said: "Douglas played an important part in the early years of the Gibb brothers who lived in our town with their late father Hugh and mother Barbara.
"It's interesting to note that Hugh Gibb had been a drummer and bandleader who, like his sons, played to packed houses, albeit in Douglas.
"Later the family moved to Manchester before emigrating to Australia, but no matter where they lived and no matter the level of success, they went on to achieve, the brothers' abiding love for Douglas and the Isle of Man endured," added Mr Christian.