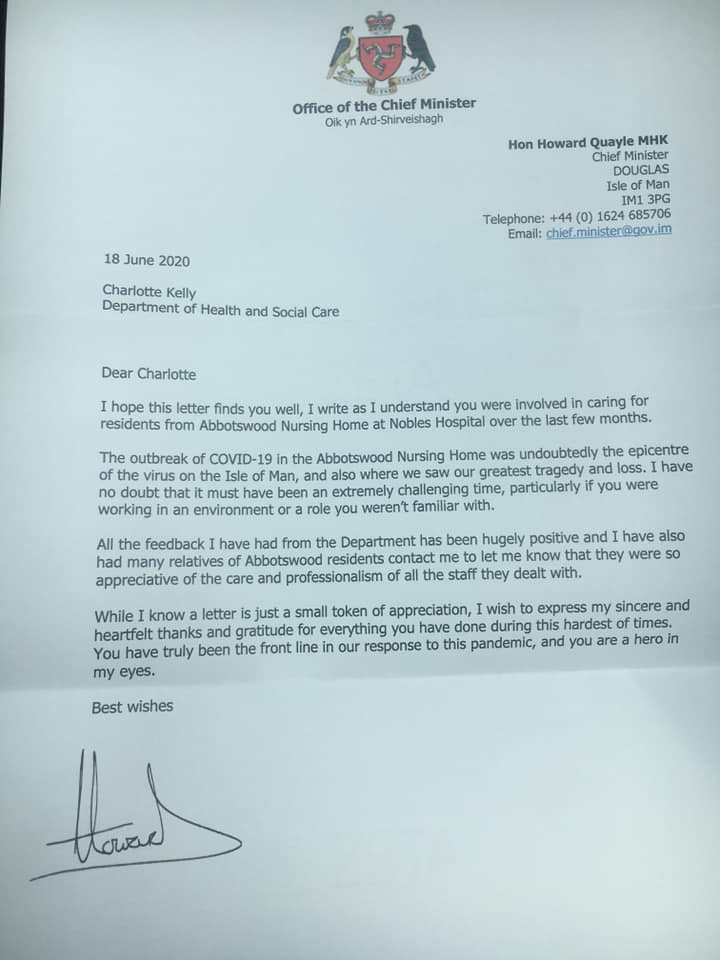 The Chief Minister has been showing his appreciation for our health workers - by sending them a letter to express his gratitude.
26-year-old Charlotte Kelly from Port St Mary, who works as a healthcare assistant received hers this week.
The letter reads:
"I hope this letter finds you well, I understand you were involved in caring for residents from Abbotswood Nursing home at Noble's Hospital over the last few months.
The Outbreak of Covid-19 at Abbotswood Nursing Home was undoubtedly the epicenter of the virus on the Isle of Man, and also where we saw our greatest tragedy and loss. I have no doubt that it must have been an extremely challenging time, particularly if you were working in an environment or a role you weren't familiar with.
All the feedback I have had from the Department has been hugely positive and I have also had many relatives of Abbotswood residents contact me to let me know that they were so appreciative of the care and professionalism of all the staff they dealt with.
While I know a letter is just a smallt oken of appreciation, I wish to express my sincere and heartfelt thanks and gratitude for everything you have done during the hardest of times.
You have truly been the front line in our response to this pandemic, and you are a hero in my eyes."
Charlotte said she was working with an incredible team in ward 20, the swab team and in the main hospital.
She added:
"It's so nice to feel appreciated and I was so grateful to receive Mr Quayle's letter for the hard work we all did during such a challenging time. It was incredible how well everyone pulled together in healthcare under such pressure during the pandemic and we all worked so hard to ensure everyone was well looked after, reassured and comfortable.
I've worked in healthcare for 9 years and never imagined I'd be taking care of people through this pandemic. It was a very challenging time, but everyone came together to support each other and we got through it!"