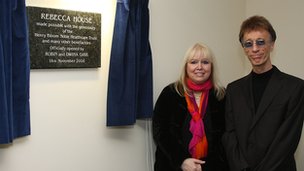 Rebecca House Hospice is set to greatly benefit from an influx of donations, after the widow of Robin Gibb request his legion of fans donate to the charity in lieu of flowers.
The request was put on Robin's official Facebook page yesterday, with money already flooding into the Hospice, based on the Nobles Hospital site.
Chief Executive of Hospice Isle of Man, Margaret Simpson has expressed her gratitude to the Gibb family, and told 3FM of her fond memories of when the couple opened the Rebecca House facility back in 2008.
The Children's Hospice has annual operating costs of £400,000, and whereas it's impossible to estimate how much money will be generated by this initiative, it is expected to be substantial given Robin's huge worldwide fanbase.
The news has already started to boost the charity's profile massively with interest in the story from UK media.
(AUDIO ABOVE)