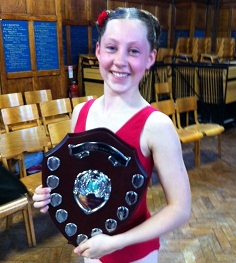 An 11-year-old girl from Peel has won the Royal Academy of Dance's North West Scholarship Auditions, which took place recently in Manchester.
The auditions saw more than 90 candidates, ranging from eight to 13, take on classical ballet class with a renowned choreographer and perform in front of an audience.
Breeshey Crookall was the overall prize, receiving a trophy and the Jean Brenda Johnson Scholarship for further training in classical ballet.
Breeshey trains at Gena's Dance Academy in Peel. Her teacher Gena Turpin said she was delighted with Breeshey and highlighted that previous scholarship recipients have gone on to study dance at the prestigious White Lodge Dance School.