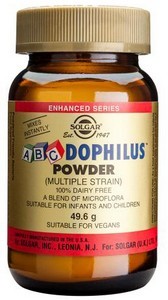 'ABC Dophilus powder'
The Department of Environment, Food and Agriculture is urging people to take heed of a product recall by Solgar UK.
'ABC Dophilus powder' is a 'friendly bacteria' dietary supplement for infants and children usually mixed with formula, other liquids or in food.
It's been found to contain a fungus called rhizopus oryzae - which should not be consumed.
It can cause health problems for all infants, children and anyone diagnosed as having a weakened immune system.
DEFA explains that people need to check the packaging for a best before end date of July 2015 and return it to the retailer for a full refund - all other products and batches are not known to be affected.
Anyone with concerns should contact their GP.