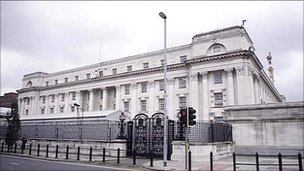 Deemster Doyle said he enjoyed \'important\' talk in Belfast
The head of the justice system in the Isle of Man says he's enjoyed useful visit to Belfast's Courts of Justice.
Deemster David Doyle visited the city on Tuesday to observe the workings of Queen's Bench Division and the Court of Appeal.
The Deemster also met with the Lord Chief Justice of Northern Ireland Declan Morgan.
Upon his return to the Island he said it was important to meet with leading judges of other jurisdictions to discuss matters of mutual interest.
He added the judicial world is very small and he'd like to think he'd help raise the profile of the Manx legal system and judiciary among his counterparts in Belfast.