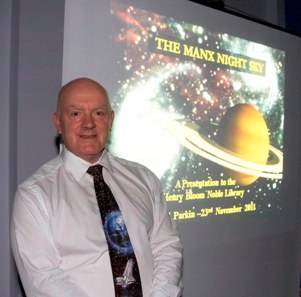 A local astronomer has been appointed the Island's 'Dark Skies Advocate'.
Howard Parkin was named by the International Dark Skies Association (IDA)
He says he's 'delighted' and is looking forward to working with the IDA to encourage the installation and development of environmentally friendly lighting.
He adds at a time with huge focus on energy costs, it's hoped by making people aware of the amount of unnecessary lighting, considerable savings can be made which will also benefit not just astronomers, but humanity, wildlife, and the natural environment.

Light pollution is increasing worldwide at twice the rate of global population growth, with eight out of ten people live under a light-polluted night sky.
Further, at least three billion dollars is wasted on outdoor lighting each year in the U.S., and virtually every species studied has been impacted by light pollution.
Through its programs and advocacy efforts, IDA has brought awareness of the issue of light pollution to the general public since 1988.
The award-winning International Dark Sky Places (IDSP) program was founded in 2001 to encourage communities, parks and protected areas around the world to preserve and protect dark sites through responsible lighting policies and public education.
Since then, IDA has certified more than 170 Places around the world, encompassing nearly 115,000 square kilometres of protected dark lands and skies.
Howard goes on to say:
"I am hoping to interest other like minded organisations and individuals on the Island and hopefully set up an Island based IDA Chapter for the Isle of Man. I will be delivering a series of talks on the subject throughout the IOM in the next few months to explain just what the problem is and what we can do on the Island and further afield."