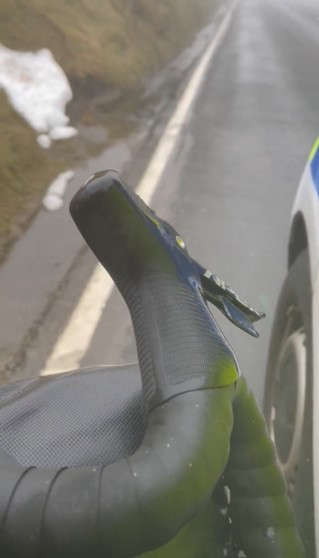 A cyclist on Island claims he was stopped 3 times by police, whilst cycling over the Mountain Road.
Chris Glencorse posted a video of the interaction on Twitter on Wednesday.
He says 'unbelievably the IOM Police thought it was appropriate to stop me three times while cycling over the Mountain.'
He adds 'the last time to tell me to put the bike in the van because of complaints by car drivers. That's not how the Highway Code works. I didn't get in the van.'
Currently, the video of Mr Glencorse has been viewed 1.3m times
On the same day, local police tweeted to say numerous members of the public contacted the force with concerns for a cyclist on the Mountain Road.
They said several callers advised there was heavy fog and they had almost struck the person on the bike.
Officers say they then checked on the welfare of the cyclist, who was traveling from Ramsey to Douglas and safely made it to their destination.
Video footage of the interaction has been viewed on Twitter over a million times.
Unbelievably the @iompolice thought it was appropriate to stop me 3 times while cycling over the mountain the last time to tell me to put the bike in the van because of complaints by car drivers. That's not how the Highway Code works. I didn't get in the van ??@100Climbs pic.twitter.com/VGXXmq3E3f

— Chris Glencorse (@chrissyglenc) March 16, 2023
This afternoon, we received a number of calls from members of the public in regards to concerns for a cyclist on the A18 the Mountain Road. Several of the concerned callers advised that the weather was adverse (heavy fog) and stated that they had nearly struck the cyclist. pic.twitter.com/so4tOtMVXG

— TweetbeatIOM #RespectIOM (@TweetbeatIOM) March 16, 2023