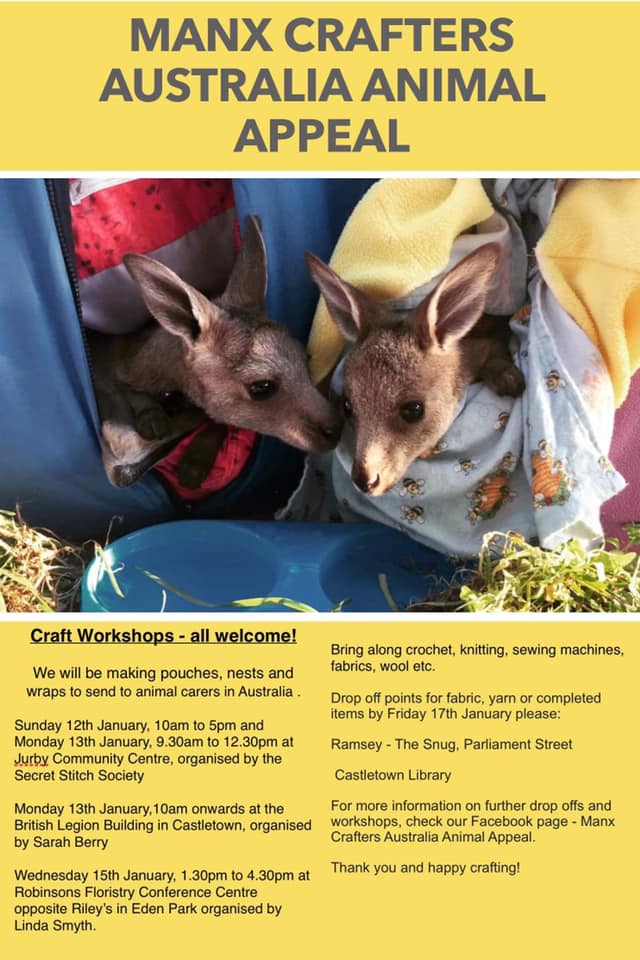 Crafters around the Island are appealing for fabrics and volunteers to help animals hurt in Australia's wildfires.
It comes following The Snug on Parliament Street in Ramsey accepting donations of cloth and fabric used to make bandages.
Originally, a woman from Carlisle issued an appeal for any flannel, cotton or soft fabric which can be used to help heal Australian creatures which have suffered in the huge blazes.
Now, local crafters are appealing for fabrics, yarns and volunteers to help produce wraps and pouches.
Anyone with fabric, yarn or completed items are asked to drop it off at either The Snug in Ramsey or Castletown Library by Friday 17th January.
Local crafters are already busy sewing, knitting and crocheting joey pouches, bird nests, bat wraps and micro pouches for even smaller animals and are encouraging anyone to join in!
Two workshops have been organised so far, details are as follows -

Sunday 12th January, 10am to 1pm and Monday 13th January, 9.30am to 12.30pmat Jurby Community Centre.
Monday 13th January 10am onwards at the British Legion Building in Castletown.