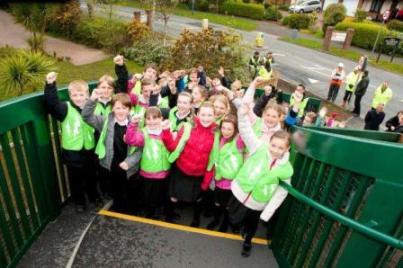 Pupils at Cronk-y-Berry Primary School yesterday became the first to cross the new footbridge over the TT course, linking Governor's Hill with the new school at Bemahague.
The 50 tonnes bridge has a clear span of 22 metres and needed to be hoisted into position by a 60-tonne crane; it will provide safe access over the A18 TT course at Hailwood Avenue corner.
The £33.8 million School will open in September.
It will be classed as St Ninian's Lower School and will be able to accommodate 700 pupils from years 7 to 9 of the existing school.