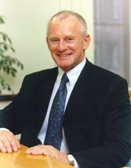 The Island\'s new chief minister says he still retains many of the nationalist values he did in the 1970s.
Allan Bell insists he still believes passionately in the preservation of Manx independence.
The new chief minister, a former member of the Manx republican party Mec Vannin, said he wanted the island to become 'less dependent' on the UK during the course of his time in office.
He said the concept of independence had changed over the past 30 years but he still retained many of the core nationalist policies he did when his political career began in the 1970s.
(AUDIO ABOVE)