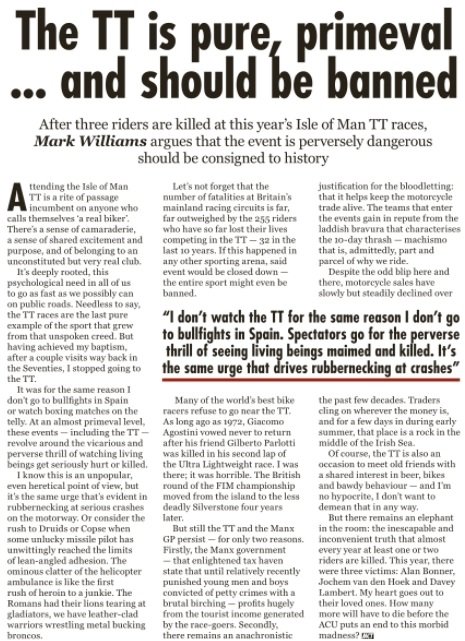 A motorbike magazine has sparked an online row - after suggesting the TT should be banned.
Journalist Mark Williams was writing in the latest edition of Motorcycle Trader, saying he'd visited the races in the 1970s.
He claims spectators are living out what he calls a "perverse thrill of watching living human beings get seriously hurt or killed".
In his article, he goes on to compare festival fans to rubberneckers who slow down to look at motorway crashes.
Mr Williams calls the Isle of Man a tax haven that punished young men and boys with a brutal birching.
He points to the number of deaths during racing, comparing 255 fatalities on the Mountain Course to 32 deaths on Britain's tracks in the last decade.
And he goes on to accuse racing teams of a "laddish bravura" which he says is used to "justify bloodletting".
Mr Williams concludes by asking "how many more will have to die before the ACU puts an end to this morbid madness?"