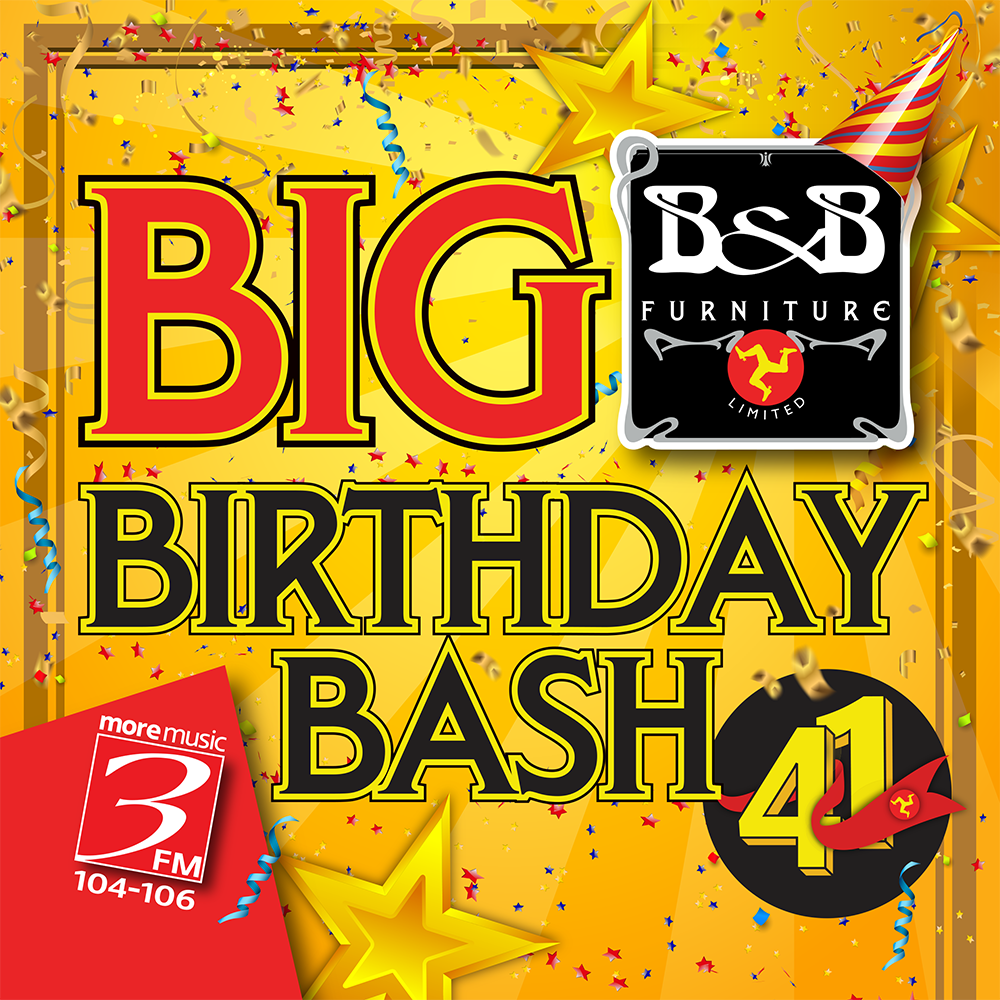 It's a big Happy 41st Birthday to B&B Furniture this September and they're getting ready to throw the biggest Party ever with 3FM…and our 4 finalists!

B&B's Party finale could be worth up to a staggering £4100 to one lucky birthday guest who takes on the "Gold Ticket Dash" with incredible discounts for your home in store throughout September!

Watch all the action here!

Celebrate 41 years of B&B Furniture at Snugborough Trading Estate, Union Mills!
Terms & Conditions
THE PRIZE
YOU MUST ONLY ENTER IF YOU ARE OVER 18 & ARE AVAILABLE TO TAKE PART IN THE FOLLOWING:
THE FINAL
ALL FINALISTS MUST BE IN GOOD HEALTH AND PHYSICALLY FIT TO TAKE PART IN THE "GOLD TICKET DASH" FINAL ON FRIDAY 13TH SEPTEMBER BETWEEN 4PM & 6PM.
THEY MUST ALSO BE ABLE TO ATTEND THE 3FM BREAKFAST SHOW ON FRIDAY 20TH SEPTEMBER BETWEEN 7:45AM & 9:00AM.
Full Prize Breakdown
• 1 x £41.00 B&B Furniture voucher will be awarded to one daily winner from MONDAY 2ND SEPTEMBER - FRIDAY 6TH SEPTEMBER, MONDAY 9TH SEPTEMBER - WEDNESDAY 11TH SEPTEMBER.
• 2 x £41.00 B&B Furniture vouchers will be awarded on THURSDAY 12TH SEPTEMBER.
• Each £41.00 voucher winner will be put forward to a final draw with 4 finalists being chosen to take part in The Final / Gold Ticket Dash.
• The contestant to collect the most gold stars during the Gold Ticket Dash will receive the amount (to a maximum of £4,100.00) in credit to their account at B&B Furniture.
• The prize is NOT transferable, has no cash value and is not for re-sale.
• The voucher cannot be used against clearance items.
• The winner will have 41 days from winning the prize to spend any balance. After 41 days any remaining credit will be forefited.
• Chosen / ordered items from B&B Furniture will be delivered in 1 delivery. This delivery will be made when all items have arrived in stock. The delivery will be only to the main prize winners house.
• 3FM / B&B Furniture will film and be able to take pictures of the winner receiving prize items at their home.
• On acceptance of this prize, you are deemed to have read and agreed to the above terms and conditions.

3FM Standard Competition T&C's apply…you can read them HERE