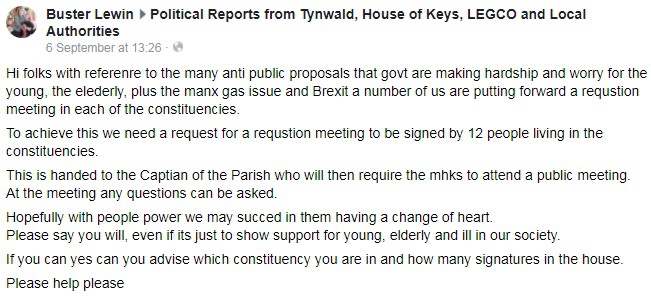 Disgraced former local authority clerk Charles "Buster" Lewin is trying to arrange requisition meetings in each of the Island's House of Keys constituencies.
Mr Lewin, who was jailed for three and a half years for conspiracy for steal, forge and illegally influence a Douglas by-election in 2010, launched his campaign on social media.
He was bankrupted after he lost an unfair dismissal case against Braddan Commissioners, where he later unsuccessfully stood for election, and was ordered to pay £300,000 in costs.
On a Facebook group he set up, he's asking people to sign their names up to have meetings called by the Captain of each of the Island's parishes.
Mr Lewin says the meetings would be about hardships imposed by the government, Brexit and Manx Gas.