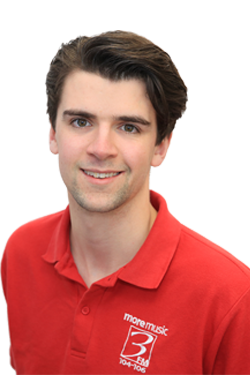 Nickname: Flavio/Short-round/Bad Brad
Star Sign: Aries
Hobbies: I play in a band called Sunset Jet
Previous Horrible Jobs: I used to climb into factory machines to clean them out
Big Break: I appeared on Reggie's Mighty Truck of Stuff in 2005, pretty much launching Reggie Yates' career.
Most Annoying Habit: I approach every situation with an irritating blend of sarcasm and cynicism
Most Likely To Say: Pints?
Least Likely To Say: Qween, Yas or any derivative thereof
Favourite TV Show: Reggies Mighty Truck of Stuff
Favourite Food: Mexican
Embarrassing Moment: I ate Salmon Roe to impress a cultured London friend of mine and dry wretched in her kitchen for a good 20 minutes… she gave me some microwave chips to get the taste out and I knew the life of the landed gentry was out of grasp.
Most Memorable Moment: Winning the Isle of Man's under 15s Table Tennis B League
Who's Your Hero: I normally dress as Superman
How Would You Like To Be Remembered: A misunderstood icon
Best Chat-up Line: The only one that's ever worked is asking a girl whether the guy stood next to her was her boyfriend, turned out it was her ex, we're still together now. I'm kind of an every day Montague.
What Animal Do You Most Resemble: Jack Russell
Give 5 Words That Most Describes You: Extremely-Hardworking, Creative, Probationally Contracted
Worst place been caught short: During an interview
Celebrity you most look like: Pete Shelley, whoever he is, that's what the older DJs told me.
If I was invisible for a day, I would: probably have my pay docked
I never want to meet: Stacy Dooley

Contact Brad